Alpine Hotel
#4, Haddon Hill Road, Nuwara Eliya, Sri Lanka.
Call Us : +94 (0) 522 222 881/7
This email address is being protected from spambots. You need JavaScript enabled to view it.
Hotel Overview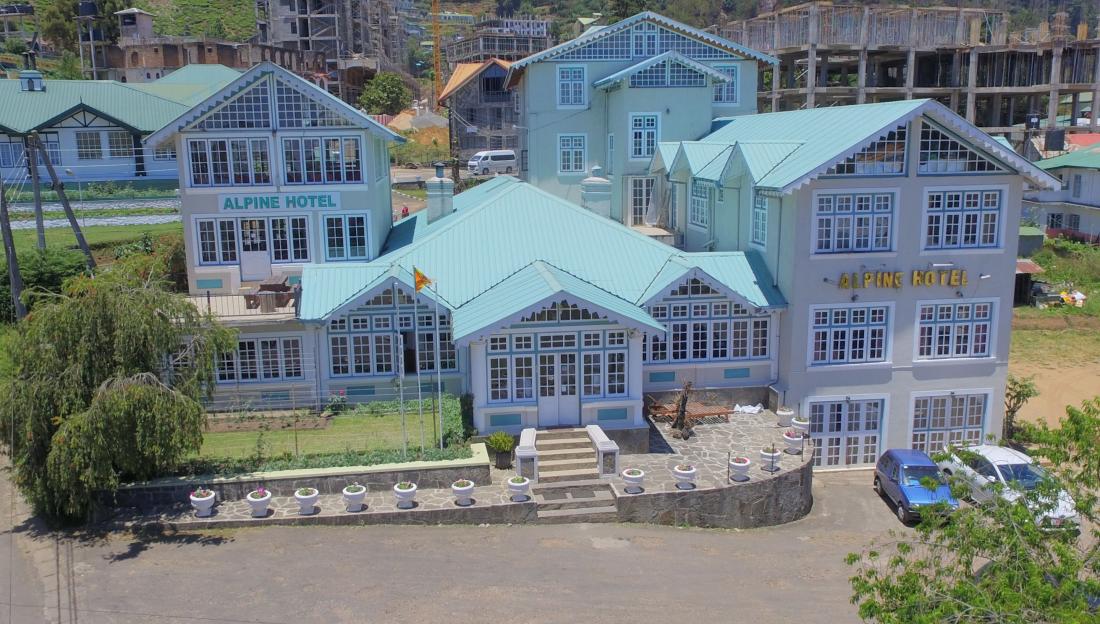 Hotel Description
Alpine Hotel is situated in the cool misty hill country of Sri Lanka. It's the greenest part of the country, flourishing in flora & fauna. It's lush green tea hills gives it a distinctive mark of its own.
Exploring ecology sites you will find this and so much more at this Super Luxury hotel.
A retreat in the mountains – Nested in the highest range in Sri Lanka (approx 2600 meters) is Alpine Hotel and Alpine Eco Adventure Travels (AEAT). Being the pioneers in Eco adventure tourism in Sri Lanka our expertise in organizing Eco tours dates back to the early 80's. Today we are a professional team of Eco lovers who promote the dense mystic mountains of Sri Lanka on many Eco adventure activities such as Camping, River Rafting, Bird watching, Cycling, Safari tours, Trekking Leopards, Wild Elephants, Sloth Bears along with other 90 species of mammals in pristine rainforest's, highlands, virgin jungles, mangrove swamps and so on.
So for those who pursue adventure off the beaten track we know where all the exiting and unusual attractions are. We are BIG enough to handle any type of tour anywhere in the island and SMALL enough to give each of our clients personal wants in this "Teardrop" Island of Sri Lanka.
Location
Google Map
Hotel Facilities
Hotel Facilities
Bicycle
Design
Entertainment
Fitness
Indoor Pool
Lift
Sport
Wifi