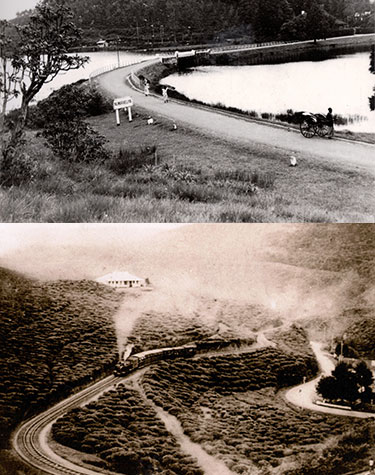 The history of Nuwara Eliya roughly dates back to 1818 when Dr. John Davy discovered Nuwara Eliya as a place with a similar climate as England and also a place full of wild animals for hunting such as Elephants, and other animals and also full of Asoka trees. When the Uwa Wellassa battle was raging at this time the British had established themselves in the Kothmale area. The British then ventured out for hunting as a hobby and then suddenly found themselves in an area where the climate was very similar to England.

The original Nuwara Eliya was a patina with no trees or greenery. It is suspected that the reason for this was that there was a fire during the Ramayana where Hunuman set fire to the region. Since the present Nuwsara Eliaya is black in colour it is believed that this is due to the fore that took place during the Rama/ Rawana war. The traveler Iban Bathuththa discovered "Adam's Peak: and found a plant named "Rathambara" (Ma Ratmal) which was a medicinal plant. It was found that this plant was resistant to fire and therefore did not catch fire Therefore it can be believed that when the original fire took place only this particular plant survived the fire.

Sir Edward Barnes, governor from 1824 to 1831 built his home known as "Barnes Hall" which is today called the Grand Hotel. From 1831 - 1837 the governor was Sir William Horton who had written many articles about Nuwara Eliya in his many literary works In 1838 Samuel Baker, an explorer, discovered Nuwara Eliya as a place with the exact climate of England and made it into a retreat for the British colonists to retire and relax and indulge in hunting which as a favorite past time. He also introduced farming during this time. Mr Samuel Baker was also instrumental in building "Baker's Farm, a hospital ward at the Nuwara Eliya base hospital known today as Bakers Ward. He returned to England in 1866 due to ill health. However, recognition of his work at Nuwara Eliya the broadest water fall in Nuwara Eliya was named after him and is called " Bakers Falls:' In 1872, Sir William Gregory became the governor of Nuwara Eliya and further developed Nuwara Eliya to a place of beauty and a typical English climate and atmosphere and was instrumental in building the Gregory Lake from a swamp to what is today known as Gregory Lake. He also gave the message to world that Nuwara Eliya was an ideal place for agriculture and specially for coffee, Tea, Cinkona and animal farming.

In 1877 sir Robert London became the Governor, who was instrumental in building the railway track from Peradeniya to Nawalapitiya and then from there to Hatton and Nanu Oya.

The first Sri Lanka to own property was the father of late S.W.R.D. Bandaranayake, in 1910.